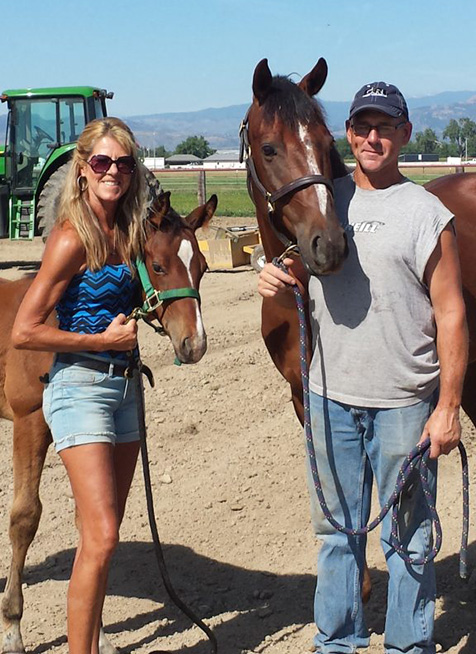 MEET THE OWNERS
---
Luke and Leesa Vos purchased Mountain View Ranch and Stables in 2013 when they moved to Fort Collins from Northern Washington
As third generation farmers, Luke and Leesa understand the importance of commitment, relationships and work ethic when it comes to the success of running a large horse boarding and training facility. Their goal is to grow the legacy of Mountain View and ensure that Mountain View continues to be the premier boarding and riding facility in Northern Colorado. The facility offers multiple, competitively priced boarding options. In addition, there are lots of riding and lunging options both indoors and outdoors; this is a true year round facility. Call for an appointment, we'd love to show you around.
Both Luke and Leesa meet their team of stable hands at the barn at the crack of dawn for feeding, cleaning stalls and paddocks, adding new shavings and performing daily turnouts. After that, Leesa can be found dragging the various arenas to ensure perfect footing for horse and rider. Luke can often be found on his huge tractor, keeping the pastures in top condition and well irrigated. Our facility is always meticulously clean and our boarders are happy to help by picking up after their horses and making sure they leave things neat and tidy before they leave at the end of their ride. Manure is kept far away and taken off site so that flies are not a problem.
Why Choose Us
---
Our clients and their horses are the most important thing to us and we continually strive to provide a meticulously clean and safe environment for all. We'd like you to know what you can expect when you board your beloved horse with us. We believe that no one horse is "better" than another; meaning that the champion reining, dressage or jumper is just as loved, cherished and important to their owner as a 34 year old retired horse living out their days contentedly.
Family owned and operated
Top class loving care for each and every horse
3 huge green and lush irrigated pastures
Premier hay fed to all horses
3 round pens, one of which is a larger 'riding' round pen
2 very large outdoor arenas
Large indoor arena, with excellent lighting and automatic sprinkler system
Excellently maintained footing in all arenas and round pens
19 large, well lit, open stalls with thick mats and a deep layer of shavings
---
Fans in stalls and aisles
Daily turnout for stall horses
Individual open stalls with runs
Large shared paddocks with up to 5 horses in each
Large paddocks with 2 horses in each
Indoor, heated wash bay
Outdoor wash bay
3 large tack rooms
Trail riding on and off property
Excellent in-house trainers
Winter blanketing (*additional fee applies)
Supplement feeding (*additional fee applies)
Administration of medications (*additional fee applies)
Cross ties for farrier and vet visits